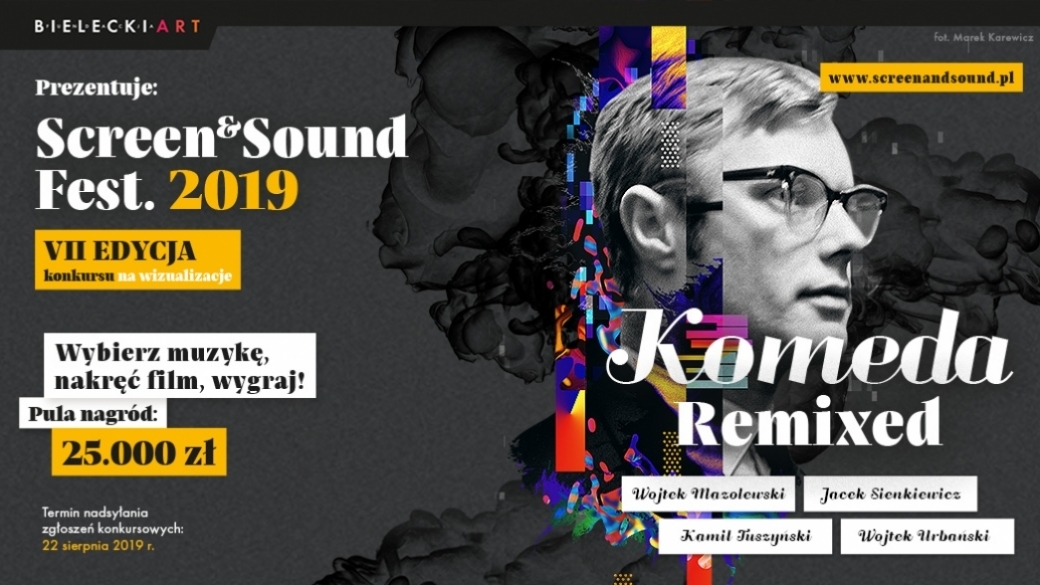 ---
This year, the theme of the competition organized as part of Screen & Sound Fest. is the work of Krzysztof Komeda, whose vast musical legacy served as inspiration for the creation of competition pieces. Wojtek Mazolewski, Jacek Sienkiewicz, Wojtek Urbański and Kamil Tuszyński recorded contemporary interpretations of Komeda's compositions, which you can listen to at https://www.screenandsound.pl/lista-utworow.

In order to take part in the competition, it is enough to create a movie in any technique that will be an illustration of the song chosen by you, register on www.screenandsound.pl and send it to us. We are waiting for visualizations until August 22 this year. The winners will receive prizes worth a total of 25,000. zł. and a screening of the awarded works during the festival screenings in Krakow and Katowice.

The submitted works will be judged by the Jury, consisting of e.g. Emi and Maciej Buchwald (young, independent directors and screenwriters), Robert Sowa (creator of animation, deputy dean of the Graphic Department of the Academy of Fine Arts in Krakow), Tomasz Lach (painter and President of the Association for the Care of Krzysztof Komeda's legacy), Janusz Bielecki (composer, patron and inventor of the Screen & Sound Fest.).